India is a country of rich culture and heritage. The colourful states have a lot to explore. Any place you visit, you will get attracted by shopping corners. Shopping in a new place is always fun. Indore is one such place whose markets are worth exploring. From delicious cuisine to eye-catching Maheshwari Sarees, Indore magnificently ignites the shopper's spirit in you. Let's explore some famous markets in Indore.
1. Rajwada
Rajwada is a treat for shoppers with desi merchandise. You will find a little of everything here. A crucial place for every merchandise, Rajwada offers everything, from gift shops to garment shops.
2. Bajaj Khana Chowk
The shiny, sparkling garments welcome you at this market, laced with fancy decorative pieces. Are you looking for exotic, unique clothing? This is the market for you.

3. Khajuri Bazaar
A heaven for bookworms. This olden, attractive book market holds every book of every kind you want, from the class syllabus to fictions, novels and poetry. Every Indore market is a gold mine for bargainers, and here you could get your favourite titles in half the price.
4. Topkhana market
Handicraft products always give a glorious sense of ethnicity and nostalgia, and Topkhana in Indore will give you just that. Wood-Carved Toys, Leather accessories, Terracotta Antiques, Topkhana has it all. The market probably gets its name from the ancient reputation of its selling ammunition.
5. Siyaganj Market
Siyaganj Market specialises in all kinds of hardware required for household and small engineering uses. Starting with Motor Parts and Paints, Siyaganj offers a wide variety and bargaining opportunities.
6. Sitlamata Bazar
Indian women of all ages crave eye-catching sarees, and the Zari Sarees available in Sitlamata provides ample attraction to quench that longing.
7. Mrignayani Showroom
This famous Indore market has an exclusive handiwork store that serves you with a wide assortment of trinkets that the city's creativity has in store. You can purchase hand created cowhide toys and other handiwork things like bangles, showpieces and other beautiful pieces. A portion of this spot's mainstream attractions is regal rugs, artistic creations, inside decorations, customarily planned items, and so on.
8. Gramin Haat Bazar
Yet another place of handlooms, but the more, the merrier, right? There are tens of dozens of stalls in this area to satisfy every need of yours at affordable prices. If you don't like a stall, you can always move on to the next one.
9. Jail Road
There's nothing related to Jail here, except attractive prices to capture your eyes. Jail Road has the finest tailoring shops in Indore and a range of electronic items. Like every other market in Indore, you can bargain here too.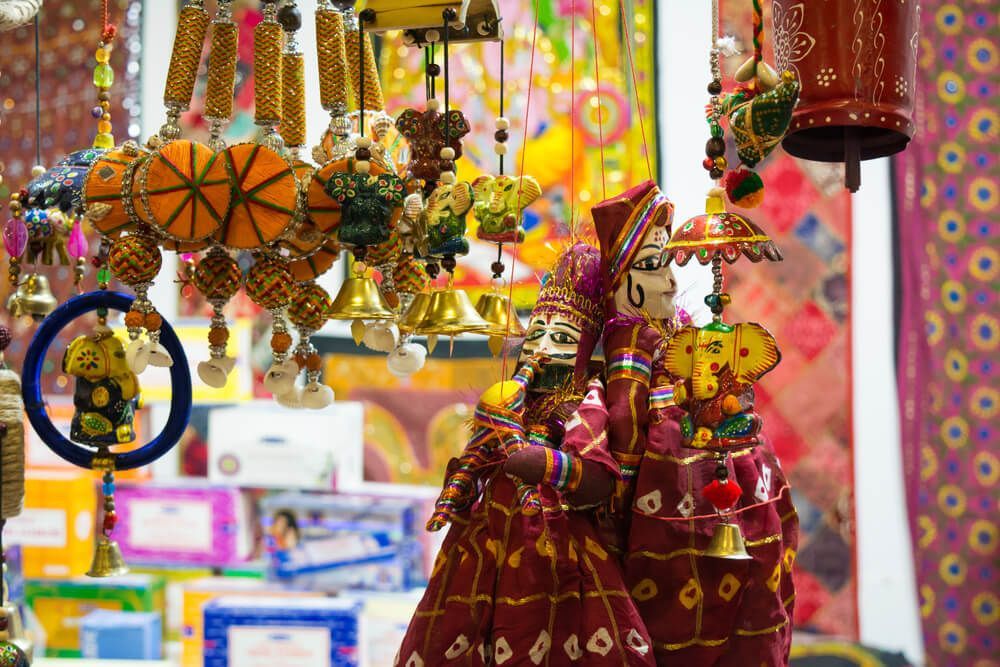 10. Sarafa Bazaar
A woman's desire for shiny fragments of jewellery is never-ending, and Sarafa Bazaar is there to hold you for that. Famous Indore jewellery is also known as Meenakari, is the true replication of the precision that the shopkeepers over here have.
11. C21 Mall
C21 Mall in A.B Road, Indore, has always been a spot for enthusiasts for trending merchandise, food courts, and overall ambience.
12. Punjab Jewellers
One of the most authentic and reliable jewellery markets in the Indore. If you seek exclusive dealers inside of peddlers for your jewellery needs, take a stroll in Punjab Jewellers, you won't be disappointed.
13. Pakeeza
An usual garment and jewellery spot, which is also one of the most visited shopping spots in Indore. The place is famous among the travellers who are looking for some prodigious deals at low-priced.
14. Central Mall
There's a Central Mall in almost all of India's notable cities, and Indore is no exception. For those who love the ambience, a lot of quality products with awesome discounts, the Central mall at South Tukoganj would be the place to go.
15. Chappan Bazaar
India is a place where you find lots of street food. Like every place in India, Indore also has a Foodies hub - Chappan Bazaar. The colourful food by the road will call you near. The Chappan bazaar is named so because it has 56 stalls.  The food-craze inside you will be extinguished after you visit this place.
16. Treasure Island Mall
This is really a treasure trove for shoppers, with ample products to soothe you, and a tasty food court for recess. The food stalls inside this mall have quite a reputation for taste and quality and should be missed in no way.
17. Moolchand Market
How about finding a place where your kid can find a large variety, and you can find different options for their shopping.  Wouldn't that be a blessing? This place can offer you an immense variety of readymade garments for your kids, and if those little ones in your family have an atypical fashion sense, this seems like the place to go.
18. Kothari Market
No matter who you are, an Indori or a traveller, everybody needs party wear in their life to get that fun bashing around. Kothari market offers a large array of choices for parties and formals alike.
19. Choithram Mandi
Fresh Fruit and Veggies brighten up anyone's day: and that too in bargain-friendly, healthy choices? Choithram Mandi is usually a wholesale market to fill up your refrigerator, but many sellers tend to loosen up to half a kilo if you're an expert bargainer.
20. Veer Savarkar Market
If Choithram Mandi is for veggies, Veer Savarkar is the fruit counterpart with top quality, low-priced delicious choices. These two markets alone are enough to contend for all your fresh grocery needs.
21. Tibet Market
The seasonal bazaar of Tibet Market offers you the largest choices in woollen and other winter merchandise. Heavy Jackets, Leather Jackets, Designer Shawls, you name it. Even if you leave home without any warm clothes, Tibet Market will have you geared up for winter in no time. The market also has some delicious Tibetan street food such as momos and thukpa offering a perfect balancing between eating and shopping.
22. Siyaganj Light Market
We have covered some other famous markets in Siyaganj earlier, but do not miss out on the market for lights. Siyaganj light market is not only enough for Diwali, but for the whole year if you want some pretty ambience in your house rooms.
23. Marothia Bazaar
If you are looking for shops that sell craftworks and speciality items while shopping in Indore, your pursuit closes with Marothia Bazaar. This Indore market is one of the notable shopping places for craft items. Other than that, you can likewise locate some great alternative to basic grocery items in this market.
24. Heritage Market
Last but not least, the Heritage Market is centrally located and an abode for expensive brands and showrooms. If you're brand conscious, you should visit this market, not only to buy but also to see the building's architectural design.
Indore, the city, known for delightful assortments of road food, the place of Holkars and the consistently engaging Bollywood big names like Salman Khan and Lata Mangeshkar, has enormous resourceful business sectors covered up under its rooftop. As the most intriguing part, however, you can discover anything anyplace in the city. There is a specific 'market' for pretty much every classification.
Indore also has some of the famous markets to explore, which we have listed above. So, next time when you visit Indore, Make sure you visit these famous Indore markets.
Also read:
1) Best Markets in Chhattisgarh
2) Best Markets in Bihar
3) Best Markets in Madhya Pradesh
4) Best Markets in Himachal Pradesh
5) Manufacturing Companies in Indore
Stay updated with new business ideas & business tips with OkCredit blogs in English, Hindi, Malayalam, Marathi & more!
Download OkCredit now & get rid of your bookkeeping hassles.
OkCredit is 100% Made in India.
FAQs
Q. What are the popular things to buy from Indore?
Ans. All the popular things bought from indoors include handloom products, handicraft gadgets, sarees, fabric, electronics, and savouries, and so forth.
Q. Where can I get handicraft merchandise in Indore?
Ans. Handicraft products in Indore can be bought from the heritage market, topkhana marketplace, and some other marketplace locations in Indore. The handicraft products available are of high quality, and they offer amazing deals.
Q. What sarees are famous in Indore?
Ans. Maheswari sarees are the most famous sarees in Indore that are one of the best handloom products. The design is ruled using geometric and flower samples.
---