Table of Contents:
1. Is Dairy Business Profitable?
2. The Market Of The Dairy Business
3. How To Start Dairy Business?
5. Which Animal To Select Cow Or Buffalo?
6. Dairy Business In India- The Legal Requirement
7. How Can I Get A Dairy Loan From Nabard?
1. Is Dairy Business Profitable?
Starting a dairy farm is ordinarily referred to as 'an all-season opportunity' as there is a steady demand for milk and milk products in India or anyplace in the globe. It demands 14 to 18 hours per day towards the business. Milk production in India is always on a high with over 3% – 4% increase each year.
For all these reasons, the dairy farming business is emerging as a thriving market for business people. The operation of a dairy farm is an amalgamation of extensive efforts, a significant amount of time, and useful resources. Along with these come a multitude of exercises such as cleaning the farm, management of sheds, feeding the cattle, or even the washing and milking of animals. Let's understand how you can get started with one.

2. The Market Of The Dairy Business
So who are the consumers of the dairy products if you are to start the dairy business? The study of Income groups, geography, and whether household types are nuclear or joint family is necessary to identify various categories of highest-selling dairy products. Also, pertinent questions like a farm of cow dairy or that of a buffalo dairy will take us to the study of the consumption patterns and demand of the market. The buffalo milk has higher fat than that of cow milk.
Again, many families in India boil milk despite milk being pasteurised to extract the 'Malai' out of the milk and prepare ghee at home. This is economical with the added benefit of consuming homemade ghee. But again there are areas in India where there is a high density of nuclear families and they have a high disposable income. These families will favour buying low-fat milk and they will afford a premium quality of cow milk. Again, regions in India with a higher population density of children who are less than 10 years of age will show higher demand for the category of A2 desi cow milk as it is comfortable to digest.
3. How To Start Dairy Business?
Let's understand what a Dairy Business plan consists of First is the introduction which outlines the nature of the business, its scope and objectives, the principal problems and the financial summary. The Mission, vision and objectives of the company contain the goals of the dairy business like producing the best quality milk or products or providing customer satisfaction by giving value for money.
The location details and the history of the company: It commonly consists of data linked to where the company is situated in a particular region. Details of the area whether owned, rented or leased should be included. The details of the cattle and farm with more information about the equipment: Data of complete details of total cattle used in the business and the different varieties of equipment acquired with their billing details are also important.
Marketing Strategy of the dairy business- The plan needs to have every information about different business proposals, marketing plans, commercials, new investments to be initiated and details of campaigns of the brand. Execution of the Plan- This should describe business plans concerning its implementation and management with forecasted timelines for fulfilment. Forecast of goals for the subsequent five years, with yearly analysis and practical information and details of a total of the permits and licenses are required to start this business.
Also Read: Best Milk Brands in India
4. Dairy Business Plan
So let's have a look at the components of the dairy farming business which are to be utilised before and after starting the business:
Land: those who own the farm are required to keep cultivated fields or land for producing fodder yields for the cattle. Its size depends on the total number of cattle which are kept. Normally, 1 acre of land is adequate to feed 7 to 10 cows.
The required breed of cattle and their vaccination: For more milk, the cattle breeds are required to be selected well. For disease control of cattle and to protect their health, a proper vaccination schedule needs to be followed.
Shed: It is a covered area in the farmland to be built before taking in cattle; this is where the cattle are to be kept.
Cattle fodder and water: These are to be kept in abundance, as water is required for the growth of green fodder and cattle nourishment.
5. Which Animal To Select Cow Or Buffalo?
Cows of good quality cost around Rs.1500 to Rs.2000 per litre of milk production per day. Cows breed frequently giving one calf every 13-14 months in the interval. Being more docile, they can be managed easily. Holstein and Jersey's crosses have well accustomed to the Indian climate. The fat percentage of cow's milk is lower than the Buffaloes. In India, there are good buffalo breeds like Murrah and Mehsana. Buffalo milk has more requirements for producing butter and butter oil (Ghee).
Buffalo milk is also favoured for preparing tea. Again, buffaloes can be kept on more coarse crop residues, thus reducing feed cost. Buffaloes require a cooling facility. Following the Indian situation, a dairy farm should consist of at least 20 animals like ten cows and ten buffaloes. This strength can comfortably go up to 100 animals in the proportion of 50:50 or 40:60. Post that reviewing your strength and market potential required.
Also Read: Best Skimmed Milk Brands in India
6. Dairy Business In India- The Legal Requirement
It varies across states depending on whether the business also intends to process milk and manufacture products. For a normal individual dairy farm, the first point of contact is the local area veterinary and dairy development department. If your farm is a registered dairy co-operative society, then no other government authority is required to be contacted. License is from veterinary or related officers of municipality, corporation, or local panchayat. If it's a large farm, then permission may be required from the pollution control board. The standards are BIS (BUREAU OF INDIAN STANDARDS) in connection with a dairy farm. These include:
BIS IS 11799:1986 (R2002): for Cattle Housing In Rural Areas
BIS IS 11942:1986 (R2002): for Gaushalas and Other Organized Milk Producers
BIS IS 12237:1987 (Reaffirmed 2004): for a loose housing system for animals.
7. How Can I Get A Dairy Loan From Nabard?
Up to 33% Subsidy on Loans which can be Rs. 7 Lakh for Opening Dairy Farm. The National Bank for Agriculture and Rural Development (NABARD) initiated a subsidy scheme under Dairy Entrepreneurship Development Scheme (DEDS) provides farmers with benefits in getting subsidies on dairy farming loans through approved banks.
Farmers can get a 33.33% subsidy of the entire project cost on dairy farming loans amounting up to Rs. 7 lakh by visiting the approved Regional Rural Banks (RRBs). Or the commercial and co-operative banks. The applicants can also gather all necessary information related to subsidy and loan facilities from the nearest bank's representative.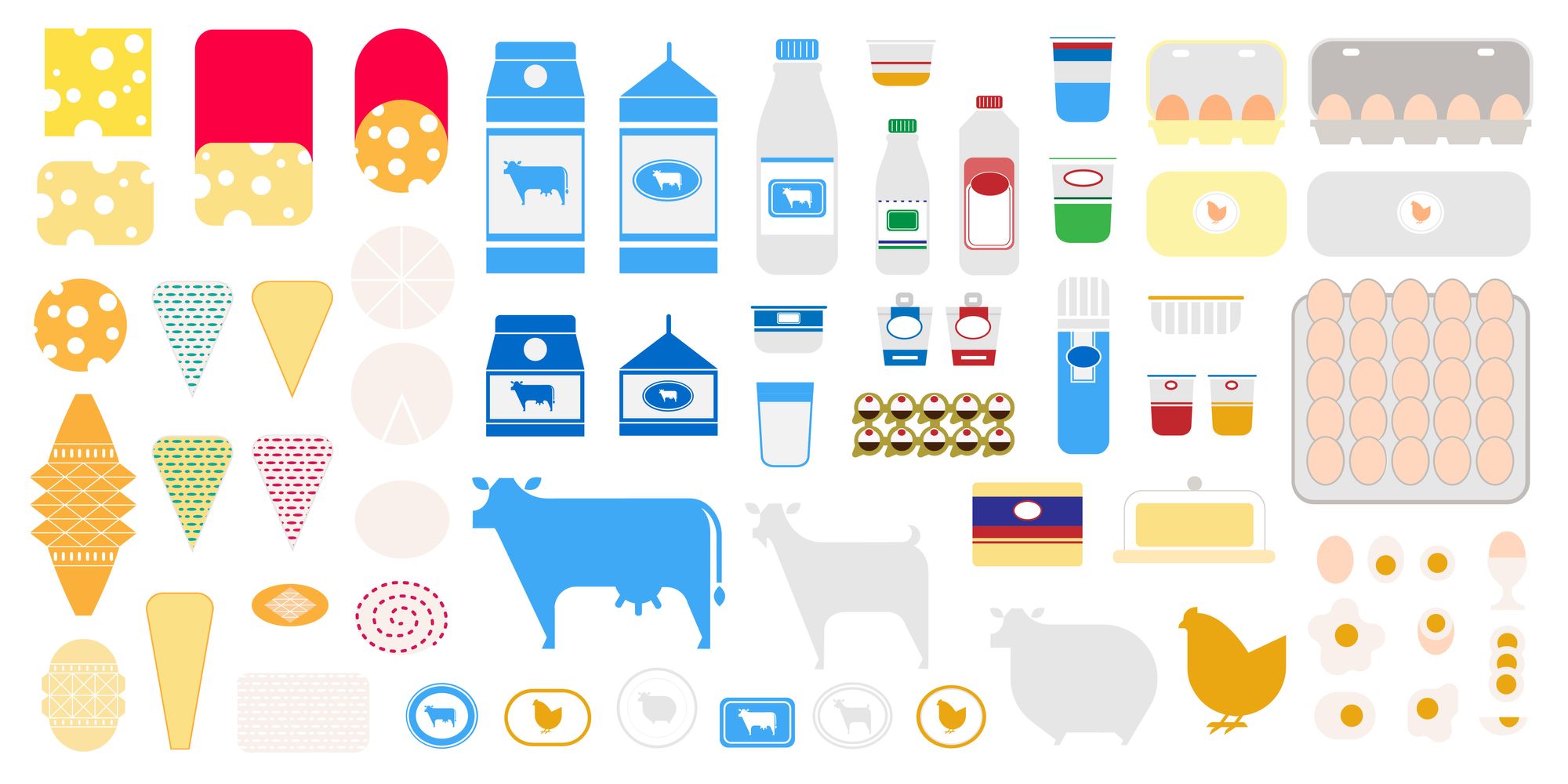 8. Key Takeaways
It is not child's play to maintain a cattle farm. Yet with much zeal and technology at hand, it can yield profits. We should be prepared for a few challenges like cattle breeding, and the availability of milk which is dependent on nature; sometimes these factors can be beyond our control. Alert, hardworking, and responsible managers can do magic. Quality control is also necessary at every step of production.
Stay updated with new business ideas & business tips with OkCredit blogs in English, Hindi, Malayalam, Marathi & more!
Download OkCredit now & get rid of your bookkeeping hassles.
OkCredit is 100% Made in India.

FAQs
Q. How much does it cost to start a dairy farm in India?
Ans- To start a dairy business in India, investment costs can range anywhere between 10 to 20 Lakh Rupees if you want to establish your dairy business plan in a rural, small-town or urban area of India.
Q. How do I start a dairy business?
Ans- Follow these steps to understand how to start a dairy business in India:
Choose a Good Location
Choose the type of cow or buffalo
Register your dairy business with respective authorities
Get all your licences and permits
If you're farming with cattle, rent or buy the necessary types of equipment
Create a market strategy for your target customers
Manage your Finances/Investments
Q. Is dairy business profitable in India?
Ans- Since ancient times, dairy farming and business have existed in India as one of the most in-demand businesses. Apart from standing straight to the test of time, dairy farming is a safe and profitable business in India.
Q. How many cows do you need to start a dairy farm?
Ans- A minimum of 20 animals i.e. 10 cows and 10 buffaloes is needed to start a dairy business in India. The strength will differ as your business expands and you can equalise the animals' ratio as per your business's demands and needs.
Q. Which is the biggest dairy farm in India?
Ans- Bhagyalaxmi Dairy Farm is the largest dairy in the world. Located in Pune, Maharashtra, India has the world's largest dairy farm and is also the biggest milk producer.
Q. What is the full form of Amul?
Ans- The full form of Amul is Anand Milk Union Limited.
Q. How safe is dairy business?
Ans- As dairy farming is high in demand and eco-friendly plus needs low skilled labourers, it is a very safe business in India. Since the dairy market is active all around the year, the location selection doesn't remain a constraint anymore. It needs a low amount of investment, and the cow dung produced by the animals can be used to manufacture organic manure and also sent to biogas plants for production purposes.
Q. What are the legal requirements for setting up of dairy farm?
Ans- The legal requirements for starting a dairy business in India are:
You need a minimum of 3000 square feet on land to accommodate at least 20 animals.
Before expanding to 100 animals you should check your market potential.
For a dairy farm loan, you will need- Aadhaar Card, voter id, driving license, and PAN Card.
Address proof like- Utility bills, Aadhar and ration card.
Past 6 months salary slip
Passport size photographs
Registration proof of dairy business
Q. How many acres do you need for a dairy farm?
Ans- If you go as per the thumb rule of dairy farming, a decent space of 1.5 to 2 acres should be good enough to start a dairy business in India. You also need to keep some land aside for fodder cultivation depending on soil type, rainfall and irrigation for approx 10 cows in the beginning.
Q- Cows of which breeds are used in India for more milk?
Ans: Tharparkar, Sahiwal, Red Sindhi, and Gir.
Q- What is the production capacity of milk by jersey cow each day?
Ans: 30 to 35 litres per day and a yearly average of 5000 to 8000 litres.
Q- How many calves can be grown in a year?
Ans: For daily production of milk, the minimum number of calves is one as they give birth in 12 to 14 months. A cow's life span is 6 to 8 years, so it can give birth to 4 to 6 calves.
Q- What are the different types of buffaloes that can be used?
Ans: Jaffarabadi, Murrah, Mehsana, Nil Ravi, Haryana, Surti, and others.
Q- How much does it take to feed daily a cow in a year?
Ans: Though it depends upon the quantity of milk produced, yet the cost for every 20 litres of milk production for a cow weighing 500 kg, is between Rs 250 to 500.
---