A domain name is your website's address that the visitors use to explore your website and acquire necessary information. The most revolutionary technology is a vast network of computers, and each of these computers houses a specific number, the IP address. But can you imagine your favourite website only with an IP address? Imagine Facebook with 66.249.66.1 instead of www.Facebook.com. Doesn't it look peculiar!
So, for the convenience of the user's domain, names came into existence with symbolics.com in 1985.
A domain name is primarily an identification thread that features administrative sovereignty and complete control in the internet world. It is useful for various application-specific naming as well as for addressing. Domain names feature different subordinate levels where the first-level sets are known as the top-level domains (TLDs).  It includes the generic top-level domains (gTLDs) that provide popular domain names such as com, net, org, info, and the country code top-level domains (ccTLDs).
A domain name makes use of numbers and alphabets for generating easier and effective website addresses. As of now, there are more than 140 million dotcom addresses already registered. And, half of them are even thinking of generating new domains while we are discussing.
An Overview of Domain Name Registration
Attaining domain names is not difficult but is relatively cheaper. You can register the same for a year, even before launching your company or business. If you are serious about your company, want to take your business to the next level, and entice customers towards your business, you must register a domain name and enhance your brand identity and future endeavours.
A domain name works as a necessary extension of your business name and enhances your brand recognition, credibility, and multiplies visitor count. Moreover, a proper domain name is significant for search engine optimisation as the Google algorithm keeps tracking the frequently typed websites and offers them the priority. So, when your search volume increases, your domain name receives the benefits of getting higher ranks.
We think you would have a good understanding of the domain names and its significance as of now, so let's shift our focus on the how-to section.
So if you are concerned about registering a domain name for your business, you need to follow the below points further and take necessary action.
1. How to Register Your Domain Name on Domain.com
Having started in 1998, Domain.com is one of the most reputable domain name registrars that houses more than 1.2 million websites under it. It includes renowned top-level domains (TLDs) like .com. .org, .co and .org along with more than 25 ccTLDs such as .au, .uk and more.
The prices for availing such domain names are reasonable, and most of the time, the company offers outstanding deals and discounts.
When you opt for a domain name from Domain.com, it offers one-year authorisation for the domain name, a free SSL certificate for better security, DNS registration, automatic email forwarding feature, and various other managing tools.
For added privacy and better security, you can also avail domain privacy and protection by paying extra. Your details will be completely secured in such a scenario, and nobody can find your information in the ICANN directory.
You need to search for your desired domain name on Domain.com and pick the best available domain extension that matches your business. However, .com is the most popular domain name extension you can prefer for your business.
Once you choose the domain name and its extension and confirm the same, it will be added to your list along with a two-year subscription for all-inclusive privacy and protection.
However, you can remove it according to your convenience and extend the renewal period as per your requirement.
Besides this, you can opt for add-on services like a professional email address that suits your domain name, website builder software, web hosting plan and necessary security tools.
Once you add all the features, move to the billing and payment page and enter your vital details. With that, you can complete your domain name registration process.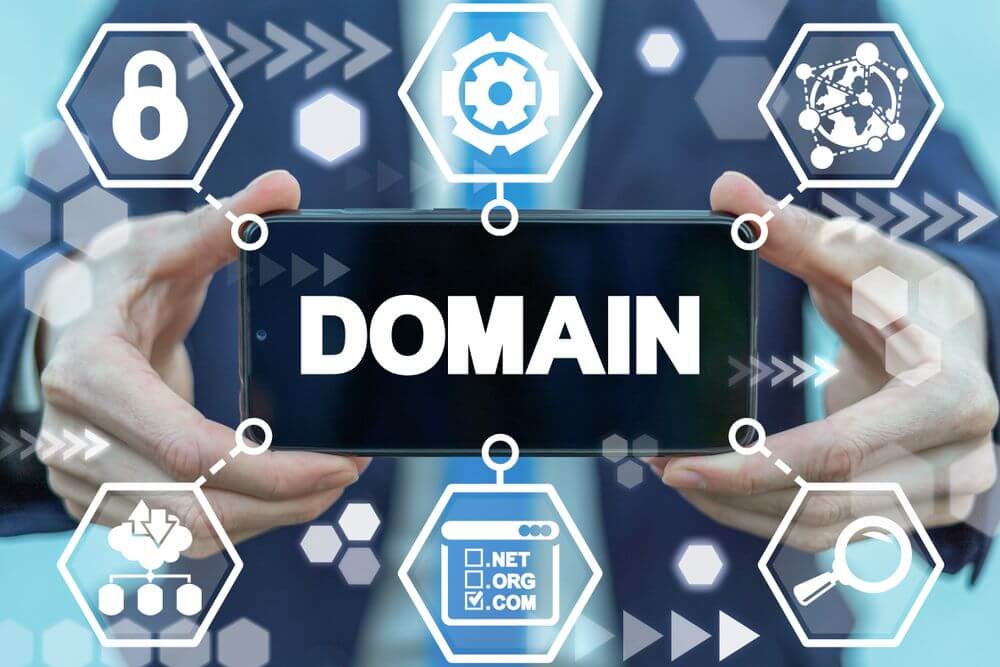 2. How to Register Your Domain Name on GoDaddy.com
GoDaddy.com is one of the most prevalent names in the category of "Domain name registration providers." Although it is instrumental in web hosting, you can opt for domain names for your business.
For an easier registration, first of all, search for the domain name that you wish to get. In such scenarios, GoDaddy.com also offers relevant suggestions based on your search or even according to your business name when you use the free domain name generator feature.
GoDaddy.com also offers you an option to buy your desired domain name if that is already registered. In such cases, you need to pay a higher price directly to the owner and fees like GoDaddy Domain Brokerage commission, the yearly subscription price for the selected domain, and additional features.
However, it is only suitable for larger businesses, so it will be best to choose the best or next best available domain name if you are running a small business.
Once you make your selection now, you need to choose your relevant domain name extension along with the subscription period. With GoDaddy.com, you can opt for various discounts and offers and grab domain names at an affordable means.  
With the yearly subscriptions, GoDaddy.com also offers you an option to generate more than 100 subdomains, privacy protection, free linking to social media networks like Facebook, Twitter & LinkedIn and exceptional customer support.
Once you make an array of selection, go through the same once again before checking out. Provide all your billing details and register your domain name for reaching a large audience base.
3. How to Register Your Domain Name for Free?
Registering a domain name for free? Sounds interesting, right? It's true; there are primarily two methods following which you can register a domain name for free for your website.
The first one is by availing the features of numerous hosting providers like Bluehost. It offers a one-year free domain with its hosting plans to the new users. So, you can register a new domain name or even transfer your existing domain name.
Apart from Bluehost, you can also opt for free domain registration from other hosting providers like Dreamhost and HostGator. However, the domain name renewal policy with such free domain registration providers is quite expensive, so you need to give a second thought on the same beforehand.
The second method to register a free domain name is through various premium website builders that offer you free domain names, hosting plans, and other crucial privileges for your business improvements.  
You can opt for free domain name registration from Weebly, Wordpress.com, and Wix. Such platforms offer a great way to bring in business online and help them enhance their digital presence.
Bottom Line
Knowing the steps for registering a domain name for your business is quite necessary. It helps you make the best decision for taking your business to the new level and multiply your business growth. So, come up with the best combination of interesting words that can entice your audience and get a good ranking in Google algorithm. We hope the above guide will help you register your domain name effortlessly.
Also read:
1) What are the Benefits of a Website for a Small Business?
2) How To Do Planning & Manage An Online Business?
3) How Many Social Media Sites Can I Promote My Online Business On?
4) Best Home Business Ideas in 2020
FAQs
Q. Can someone buy a domain name forever?
Ans. No domain name is for purchasing forever; you can only reserve your preferred domain name for a maximum period of 10 years. So, you need to renew the domain after a specific timeframe for enjoying uninterrupted services.
Q. What are the consequences when someone fails to renew a domain name?
Ans. It is always good to opt for your domain name's auto-renewal to get rid of all the intricacies like expiry of your website, and the domain name will expire up to 30 days. You can also lose your domain forever if you fail to pay the renewal fee in many cases.
Q. Who is the central authority for managing domain names?
Ans. Internet Corporation for Assigned Names and Numbers (ICANN) is the central authority for managing the domain name system management, allocating IP addresses, and taking care of database management following the best security features.
---