Table of Contents:
1. How To Start A Pharmacy Business In India?
2. Decide The Type Of Medical Store
3. What Are The New Rules For Medical Store In India?
4. How Can I Get Loan For Medical Shop?
5. Documents Needed In Getting Business Loan For Medical Store
6. How Do I Start A Pharmacy Shop? Documentation Process And More.
7. Types Of Licence For Medical Shop
1. How To Start A Medical Store In India?
Medicines are the need of the hour. Since the dawn of COVID-19, every other person searches for a medical store near me. The entire world relies on medications to fight diseases every day.
Ever wondered about the amount of profit that these types of businesses must be generating? Or, have you ever thought about coming up with a medical store of your own?
It is no doubt that every one of us must have come across the thoughts of owning a pharma shop. But how many of us have done some research around the same Today, we will learn about starting a medical store in India in a step by step manner.
2. Decide The Type Of Medical Store
It is no doubt that the pharmacy business is a booming business in India, a business model that stays intact and is solid against economic cycles. Interestingly, as per stats based on the pharma industry's revenue, it generated a total of around 70 percent of the overall market revenue back in 2018.
Considering the increasing potential in this business, owning a medical store is a dream for many. Before you think about things like how to start a medical store, you must be aware of the type of medical shop you want to own. Below are some of the commonly available options-
1- Hospital Medical Store
This type of medical store is present inside a hospital and is developed to provide medical facilities to the hospital's patients.
2- Standalone Medical Store
It is one of the most common medical stores that is opted for. Present across the residential areas, these are the pharma shops that we generally visit.

3- Chain Pharmacy / Franchise Outlets
These are the medical stores present in the malls or around hospitals as franchise setups.
4- Township Medical Stores
These types of medical stores are set up in a township. Its function is to cater to the people that are present inside the township.
5- Stores In Government Premises
Once you have decided about the type of medical store that you want to open, the next step is to meet certain necessary government requirements by the business.
3. What Are The New Rules For Medical Store In India?
If you want to open your pharmacy business in India, here are some of the suggestive documents list that abides by the new rules for the medical store-
Pharmacy License application form in the designated format.
Drug Licenses deposited fee or Challan invoices.
Declaration form in the prescribed format.
Key Plan or Blueprint for the premises.
Site Plan Blueprint for the premises.
A Covering Letter with the intent of the application along with the name, signature, and designation of the applicant.
The basis of possession of the premises.
All government based or official Identity Proof, passport-size photographs of owner/partners of the aforementioned medical store.
Ownership proof of premises (if space is rented).
Appointment letters of registered & employed pharmacists or competent personel.
Affidavit of the full-time working competent person or the registered pharmacist.
Non-conviction of proprietor/partners/directors under the Drugs and Cosmetics Act, 1940 Affidavit.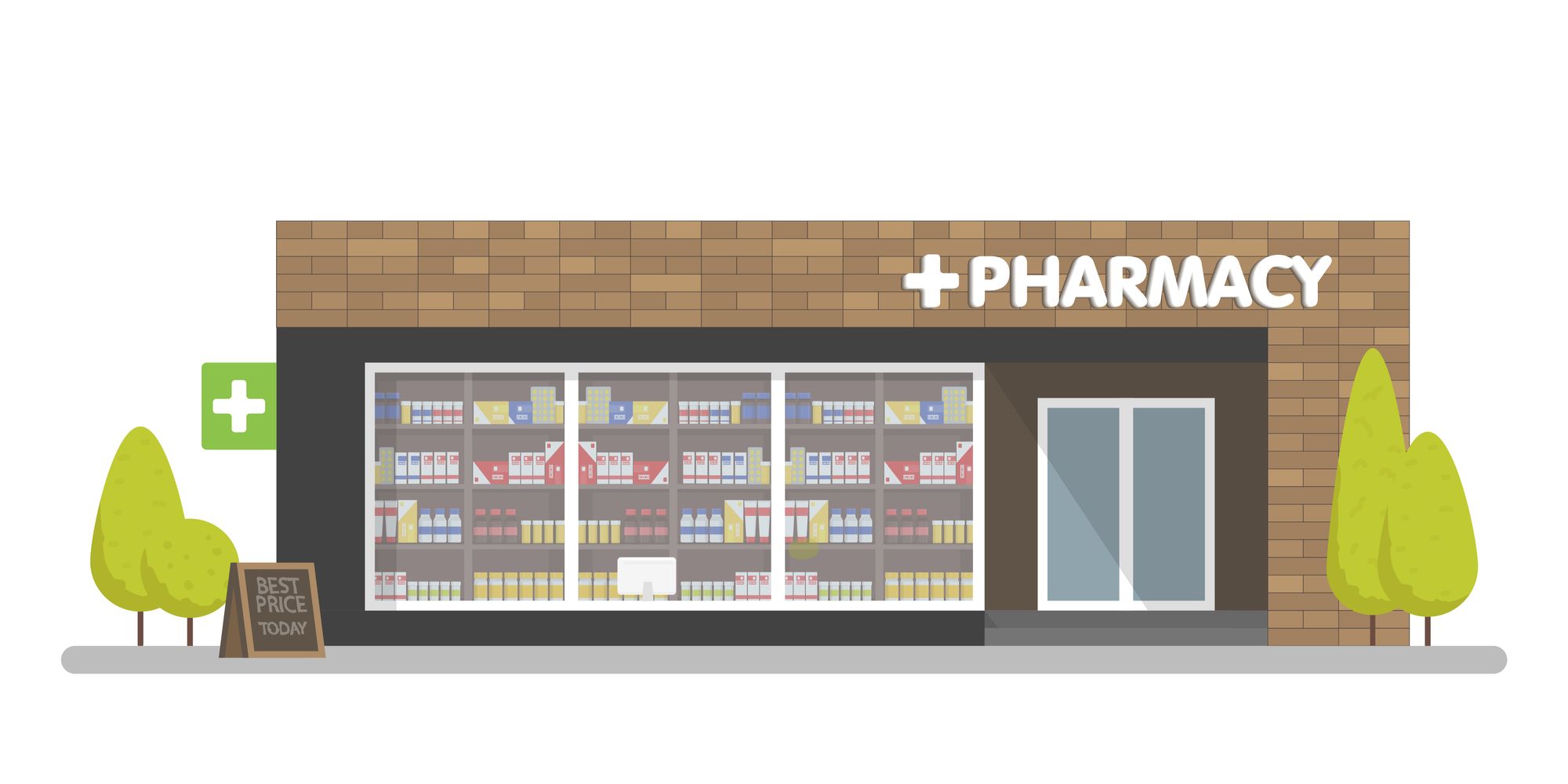 4. How Can I Get Loan For Medical Shop?
If you want to know about the benefits of Business Loan for Medical or Pharmacy Store or the rules put inside the same, then check out these customaries-
You must hold Indian citizenship
Your age should lie anywhere between 25 to 66 years.
You must be self-employed.
You should have business experience of 3 years (at least).
Also read: Syringe Manufacturers in India
5. Documents Needed In Getting Business Loan For Medical Store
These are the mandatory things you need to have before availing a loan for starting a pharmacy business in India are-
6. How Do I Start A Pharmacy Shop? Documentation Process And More.
1- Pharmacy Licence
One of the major requirements for opening a medical store is to be qualified and secure a Pharmacy License. For the person to open a medical store and be a qualified pharmacist, they need to secure the degree of B. Pharm or M. Pharm.
2- Land Registration
The second step after securing the pharmacy license is to go ahead with the land registration process. Now, this is where the investment factor comes to play. You can have your own piece of land to be registered as a medical shop or can rent one for the same purpose. It depends on the type of investments or the assets that you currently have. To register your land for a pharma-shop, you need to present the rent deed or a sales agreement. This process might require you to seek help from legal entities.
3- Registration Of Medical Store Business
The Indian Pharmacy Act, 1948, is the responsible body to govern the registration of the total amount of medical stores that are present inside the country.
Under this act, the medical stores and pharmacies that are planning to be established must register themselves by complying with all the documents submitted to the Government.
Once the registration process is done, the shop's wonder is entitled to receive a registration tribunal that marks their rights on the matters about it.
It should be noted that the constitution of the medical store business is important.
Considering the different types of medical stores that you can open, the hospital, township, and chain medical stores need to be set up as a private limited company.
The standalone medical store is asked to showcase itself as a proprietorship as a partnership.
The rise of Limited Liability Partnerships (LLPs) recently has given rise to factors where the medical stores are switching to LLPs, using it as a preferred business source.
However, it should be noted that these changes rely on promoting the rights of the people behind the partnership of these LLP forms of the constitution.
4- Company Registration
Once you have registered your business by showing it as a proprietorship or partnership or a company, registration is very important. However, there is again a situation when it comes to the registration of a company. You can have the following options when it comes to the registration of a company:
Proprietorship Registration
Partnership Registration
One Person Company Registration
Private Limited Company
Limited Liability Partnership
Shop and Establishment Registration / Gumasta Registration
Listed here are the types of registration that an applicant can apply for. Now, as far as the municipal corporation's rules go, you need to amend the regulations laid out by your respective municipal corporation. When it comes to running a business, you need to establish a registration. Getting a registration not only supports your business but is also a liable factor for obtaining a supporting document required for other licensing and registrations.
5- Tax Registration
As India's Government has it, the application of Goods and Services Tax is a must for every business entity. A medical store is no exception, as well. So, if you plan to open a medical store, you need to acquire the Goods and Service Tax registration. Now, you need to know the different threshold limits that are available in a GST registration. The Government has specified the GST limit to be of INR 20 lakhs besides the for North-Eastern Hilly states where the GST threshold limit is set to INR 10 lakhs.
7. Types Of Licence For Medical Shop
The last legal formality you need to clear before opening a medical store is the registration of a drug license. Irrespective of the turnover, every pharmacy, despite its size, requires you to acquire a drug license from the Central Drugs Standards Control Organisation and State Drugs Standard Control Organisation. The two major drug licenses issued by them are:
1- Retail Drug License
A license is required to run the general chemist shop, which requires you to deposit a minimal fee to begin operations. However, it should be noted that the process of registration can only be carried out by an individual who has achieved the degree or diploma in pharmacy from a university or an institute that is listed.
2- Wholesale Drug License
If you are planning to supply or sell medicines in wholesale, you need to issue a license for the same. Unlike Retail Drug License, the applicant does not have to follow a specified set of rules and regulations. Certain restrictions are levied under the issue of this license.
8. Key Takeaways
Having the right documents is just the beginning of settling your pharma store business. Even after securing all the documents, certain eligibility criteria need to be met. Looking at the figures that indicate that the pharma industry will grow by 754% by 2060, it is indeed the right time to get started.
Read similar guides on starting:
1) Gym Business
2) Kirana Business
3) Sweet Shop Business
4) Plant Nursery Business
5) Car Wash Business
Stay updated with new business ideas & business tips with OkCredit blogs in English, Hindi, Malayalam, Marathi & more!
Download OkCredit now & get rid of your bookkeeping hassles.
OkCredit is 100% Made in India.

FAQs
Q. What are the requirements to open a medical shop?
Ans- To open a medical store you will need the following-
Rental Agreement/Ownership Proof
Premises proof ranging at least 10 square meters
If clubbed into retail then a minimum of 15 square meters is required
Q. How much is needed to open a medical store?
Ans- To open a medical store in the suburbs a minimum of 3 to 4 lakh rupees is needed. While to open the same in a metropolitan city would easily cost you around 7-8 lakh rupees. You could either be a wholesaler or a specific hoarder. Small businesses can easily apply to avail business loan for medical store.
Q. Is chemist shop a profitable business?
Ans- Any chemist business or medical store is highly profitable just like the pharmacy business. Most prescribed drug-related businesses are incurring good profits in the market. Even OTC (over-the-counter) drugs or patent medicine store is decently profitable.
Q. What is the procedure to open a medical store?
Ans- Below are some of the mandatory things needed before thinking about how to open a medical store in India-
Ownership proof of premises
Business constitution and registration proof
Affidavit of non-conviction of proprietor or partners or directors under the Drug and Cosmetics Act of 1940.
Registered pharmacist affidavit
Equally competent full time working employees affidavit
Q. How much profit does a medical store make?
Ans- Any retail medical store profit will range from 5% to 30% every month. Different products will incur different types of margins like-
OTC (over-the-counter) medicines
Branded Prescription products
Generic Medicines
Trapped Products
Brand-specific discounted items
Q. Which degree is required to open a medical store?
Ans- The minimum requirements to open a medical shop in India is Diploma in Pharmacy after completing 12th Std in Science. After completion of your diploma in pharmacy, you're eligible to apply for a licence for medical shop.
Q. Can Doctor run a pharmacy?
Ans- No, doctors aren't officially allowed to run a pharmacy shop based on Medical ethics. Any of the Drug License for the hospital is allotted in the name of a Pharmacist and not the Doctor or even the Hospitals owner!
Q. Is the generic medicine business profitable?
Ans- Any general medicine business is a profitable business option for all entrepreneurs. Even franchises could be a great option.
Q. How many years is a Diploma in Pharmacy?
Ans- Diploma in Pharmacy is a 2 years full-time course. It consists of the following subjects-
Human Physiology
Disease
Therapeutic Compounds & drugs in use
Their pharmacology & formulations
Basics on drug store management
Pharma Jurisprudence
Q. Who can start a medical shop?
Ans- Anyone who has a Pharmacy Licence is eligible to open a medical store. For becoming a qualified pharmacist you need to acquire a degree of B. Pharm or M. Pharm.
Q. Can a nurse open a pharmacy?
Ans- No. According to the 'The Pharmacy Act, 1948′ and a nurse under 'The Nursing Council Act,' a nurse cannot open a pharmacy in India. These rules are also applicable and mandated under the Drug and cosmetics act 1940 & Rules made in 1945.
Q. Is a pharmacist a medical professional?
Ans- Pharmacists, in general, are extremely trained health professionals who specialise in a comprehensive spectrum of services like-
Conducting Health And Wellness Testing
Managing Chronic Diseases
Performing Medication Management
Administering Immunisations
Q. Which course is best for medical shop?
Ans- B. Pharm is the ideal course if you want to abide by new rules for medical store or acquire your licence for medical shop. It's an undergraduate level degree that can pursued after completing your 12th in the science stream.
Q. Can I open a medical store after D Pharma?
Ans- The official requirement to open a medical store in India is becoming a registered pharmacist. So after the completion of your D.Pharm, you have to register yourself at your state pharmacy council and obtain official certification that'll take around 45 days after the registration process, and then you can start a medical shop.
---