Table of Contents:
2. How To Start Gold Import Export Business?
3. Gold Import Export Business
4. FAQs On Gold Business Ideas
1. Gold Business In India
Gold has been imported into India for a long time and in a large quantity. It is because gold is used for various customs, marriages, traditions and investments by the Indians. It is a valuable asset. Indians love to invest in gold to have a good financial balance. The demand for gold in India is increasing rapidly. The majority of gold is imported and exported into India in the form of coins and gold bars.
Gold jewellery export business is one of the best export business ideas. However, starting a jewellery export business is not easy. It requires several steps to start a gold business. It is a profitable export business idea because gold jewellery is always high in demand by Indians. Let us discuss how to start an import-export business of gold jewellery.

2. How To Start Gold Import Export Business?
Want to know how to start an import and export business of gold jewellery in India, refer to the steps listed as follows: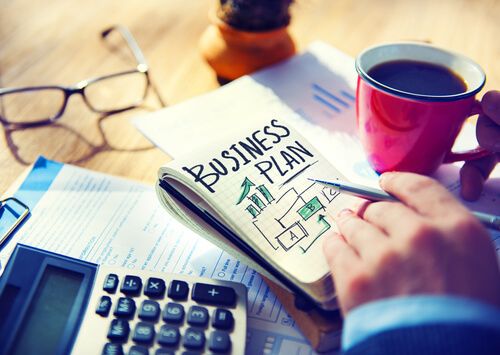 1. Make a business plan
An import-export business plan is the first step in starting your business. A business plan acts as a roadmap for your future endeavours of the company. A business plan consists of a financial plan, management plan, daily expenditures of a business, import and export costs, warehousing costs, location charges, transportation cost, labour cost, etc. So, a business plan is essential for starting a gold jewellery export business.
2. Choose a location
The next step is to choose a location for your export firm. A location must be accessible to all the export ports and airports. You need to find a location that best suits your business and customers' requirements. If your firm is accessible to ports, it will help you reduce your transportation costs. A location must be in a good area where you can store your inventories and gold stocks. Opening a firm in a small locality might not be a good idea because it can be risky. You can open a firm where middle-class and rich people reside. Usually, those areas are near airports or ports. It is essential to choose a location that is safe for your business.
3. Open a bank account for foreign exchange
After you set up your business location, you need a business bank account. You need a bank account that is authorised and permitted by the government to deal in foreign exchange. The account will be registered with the Customs and issued by an Authorised Dealer (AD). To open an account, you need a name for your business firm. The documents required to open an account include a photocopy of a PAN, a photocopy of ration card, recent passport photographs, etc. These documents are essential for a bank account.
4. Licenses and registrations
The next step in starting a gold jewellery export firm is to get licenses and permits for the business. Licenses are required to maintain a legal system of export business. You need an IEC (importer-exporter code) for starting the export business in India. Without an IEC, you are not allowed to deal in imports or imports of any kind.
You will need a Business Identification Number (BIN) for the export of gold jewellery. Other registrations and permits include business registration, establishment registration, GSTIN, BIN, insurance policy, etc.
5. Find suppliers and buyers
After setting up your export gold jewellery business, you will need to find suppliers and buyers for your business. You need to find suppliers who are reliable and provide you with the best quality gold. You can participate in the trade fair, buyer-seller meets, exhibitions and B2B portals to help find suppliers and buyers. You can also use social media platforms to find buyers. Your target audience is your buyer. So, it is essential to promote your company to your selective target audience.
6. Manufacturing operations
The next step is to start your manufacturing operations. After you find your suppliers and buyers, you need to procure an export order. You can send samples or a proforma invoice. Once you do it, you will receive orders. You can either buy goods from manufacturers or can establish your manufacturing process. It is also essential to perform quality checks before sending the shipment. The shipment will be checked and scrutinised at every stage of exporting. So, it is essential that you have all the documents present, and the quality is as what is mentioned in the documents.
7. Dispatch, custom clearance and shipment
The last step is to send the shipment. Once you are done with packing, you can dispatch the goods to the ports or airports for transit. It is essential to follow all the custom rules and procedures at each [port. After that, get your shipment bill issues. You can also hire a Clearing House Agent (CHA) for shipment bills. After clearance, your goods are ready to export. Once your shipment is exported, you will receive the payment for the shipment. The gold export business involves careful management of the accounts. It is a high-risk business, so you need to streamline the accounting process. You can use the OKCredit app to track and manage the accounting transactions of the business.
3. Gold Import Export Business
Thus, to conclude, we can say that the gold export business is one of the best imports and export business ideas to start in India. It is a profitable business but also has high-risk. Exporting gold jewellery is not an easy task. It is complex. So, you need to follow the rules and regulations set by the government. If you are looking to start a gold jewellery business, you can refer to the step-by-step guide mentioned above for your reference. It will help you understand the business in detail.
Also read:
Stay updated with new business ideas & business tips with OkCredit blogs in English, Hindi, Malayalam, Marathi & more!
Download OkCredit now & get rid of your bookkeeping hassles.
OkCredit is 100% Made in India.
4. FAQs On Gold Business Ideas
Q. What are the most successful import-export business ideas?
Ans. There are many successful and profitable import-export business ideas that you can start in India. It includes handicraft item export, clothing business, meat business, chemical export business, vegetable export business, seafood business, handmade items business, transport business, sells craft online, warehousing business etc. All these business ideas are highly profitable and successful.
Q. How can I find reliable buyers for gold jewellery abroad?
Ans. You can find the best buyers with the help of B2B websites. It can help you find the best buyers for your business. B2B websites are both time-saving and cost-effective websites. It helps to bring the different traders together from all over the world. There are many B2B platforms where you can contact buyers from around the world.
Q. How much does it cost to start a gold jewellery export business in India?
Ans. Starting a gold jewellery business doesn't require a large investment. You can start this business with an initial investment of INR 60,000 to INR 1,00,000. The business operations, management expenses and transportation expenses might increase the business expenses. The capital depends on the type of company and the scale of the business. Large-scale businesses are costlier compared to small-scale businesses.
---