How To Start A Gym From Scratch?
Gym Business Plan
Is fitness your passion? Has it driven your lifestyle in such a manner that you're ready to take your journey to the next step?
Then this blog is curated just for you fitness entrepreneurs. Starting any business is never a piece of cake, and with wrong or misleading strategies, many fall apart even before booming properly.
With the dawn of the Pandemic, from millennials to Gen-Z every individual has drastically turned their focus towards building their immunity, dietary preferences, and overall maintaining their health.
Gyms in India have become a necessity instead of luxury or show off.
A commercial gym can easily turn into a flourishing business for people with passion and an entrepreneurial drive.
Follow these steps and understand about gym business plan in India.
Step 1- Finalise An Area/Locality
A gym's success is strongly dependent on the type of location you're starting your venture at.
If you are opening your business near the residential colonies and commercial areas, your business will be easily leading to substantial profits from the first month of its inception.
But if you choose a locality that is not prominent or well-known to the customer's eye or lacks an easy reach, your business is doomed to failure.
Always pick a place with a decent or more crowd whilst keeping in mind public accessibility.
Step 2- Have A Solid Business Plan
If you are funding the entire business with your own money or from a family member, you wouldn't be in the mandatory rule for this step.
But if you are asking for bank loans or pitching to potential investors, you need a solid business proposal.
According to market analysis, a gym opening cost in India can range from anywhere between 5 lakh to 10 lakh rupees.
And any big business investor wouldn't be agreeing to give out money without a sound business plan ready, so plan it beforehand.
Step 3- Obtain All Licenses
Every business has to be compulsorily registered officially and adhered to all governing laws.
From building permits, tax procedures, and initial investment-related licenses.
If you are adding numerous amenities like an indoor pool for swimming, water aerobics along with side separate spaces or floors for spa, steam, sauna, and locker rooms, all things have to be permitted legally.
Gyms are also a place where injuries or mishaps can be occasionally inevitable, hence, opting independent contractors and well-balanced business insurance might help avoid major damage. You should also fulfil your GST registration to avoid indirect taxation and manage your invoices.

Step 4- Hire Certified Trainers
The ability of your fitness center is defined by the presence of trainers on-site.
It is a crucial part where you should not skim.
A certified trainer will not only bring authenticity but will increase the quality and word of mouth marketing for your gym.
The trainers' industrial experience will help you gain better insights into the gym business.
Consider hiring trainers who have obtained either of these certifications below-
GFFI (Gold's Gym Fitness Institute)
BFY Sports & Fitness
CBT (Certified Bodybuilding & Gym/Personal Trainer)
IAFT (Indian Academy of Fitness Training)
A trainer cost for standard gyms starts from 15,000 and ranges up to 1 lakh rupees depending on their qualification and experience.
Step 5- Get The Right Equipments
This is something that comes first into our mind when planning to open a gym.
Installing the correct equipment for your gym should be on your priority list.
You have to consider the member's safety, modern technologies, and timely maintenance.
To set up any standard equipment, the costing can range from anywhere between 3,00,000 to 40,00,000 lakh rupees.
Additional spaces need extra props and pricing will vary with times escalating.
Some commonest equipment needed to start a gym include- Treadmills, Stationary biCycles, Free weights, yoga mats, Bosu balls, Cable pulleys, weight benches, Dumbbell/Kettlebell sets, Ellipticals, Aerobic Steppers, Stair-master and abdominal crunchers.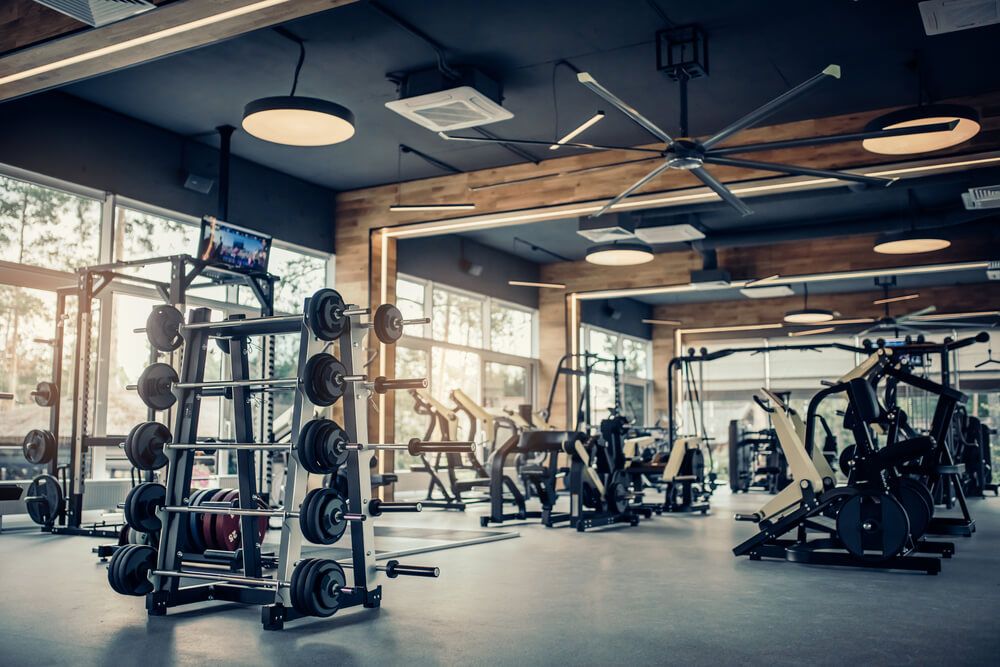 Step 6- Invest In Interiors
Just hanging a couple of motivational posters around the normal rented space never does the trick.
It looks pretty dull and doesn't let out a vibe that you initially want your crowd to feel.
Your passion and motive with the gym should reflect on its interiors.
This is a long-term investment and will go positively in attracting potential members during the initial phase.
Research styles, designs, matching equipment, good-quality speakers, and more during purchase.
Step 7- Offer Member-Friendly Incentives
Nowadays, just offering standard gym packages doesn't do the trick.
Many gym owners offer amazing additional activities that range from physiotherapy to fat loss.
This will give the customers an array of options to pick from or customize their packages hence, adding up to your profits.
Today's gyms offer numerous activities like- Pilates, Yoga, circuit training, aerobics, Zumba, resistance training, high-intensity cardio workouts, and many more.
Consider adding these for a much vivid and engaged crowd.
Step 8- Promotion & Marketing
People are always on the lookout for something different, unique, exciting, and reasonably priced packages for their workouts.
You can promote your venture by running multiple campaigns from fitness activities, demo classes, attractive discounts, and customised goodies(merchandise, bags, etc.)
One can also lure potential members with attractive annual packages or combined additional activity+ facility packs along with special discounts like-bring your buddies, family, and more.
Step 9- Opt For Franchise
If you are passionate yet feeling overwhelmed at the idea of beginning everything from scratch, lookout for a franchise.
A renowned brand ownership will take care of most of your above steps from legal permits to good locations.
Otherwise, you can also go for a franchise of a mediocre or decently performing gym chain, to learn the mechanics of running a gym.
With restrained possibilities of failure, it will help you avoid any big inciting losses for the future.
Step 10- Staff & Maintenance
For any and every gym you would be requiring-
👩🏻‍💻 Receptionist
🧑🏻‍🔧 Cleaning personnel
💁🏻‍♂️ Sales Rep
🧑🏻‍🌾 Housekeeping
🤸🏻‍♀️ Special Trainers
👨🏻‍⚕️ Doctors if providing Physiotherapy
🧑🏻‍🏭 Service Technicians
On an average monthly basis, the charge for staff and maintenance of gym equipment could range anywhere from 40,000 to 80,000. Plan as per needs.
Write in the comments section below if you found these tips helpful for how to grow gym business in India.
Also Read:
1) Medical Store Business
2) Kirana Business
3) Bike Showroom Business
4) Best Whey Protein Brands in India
5) Gym Equipments Manufacturers in India
Stay updated with new business ideas & business tips with OkCredit blogs in English, Hindi, Malayalam, Marathi & more!
Download OkCredit now & get rid of your bookkeeping hassles.
OkCredit is 100% Made in India.

FAQs
Q. Is gym a profitable business in India?
Ans:
1. The profitability of a gym depends on the locality and affordability in which you build up your gym.
2. For example, if you have invested around 50 lakh rupees, your annual turnover would turn approx. 15 lakhs that will include- rent, taxes, staff maintenance, etc.
Q. How much does a gym owner make in India?
Ans:
1. Some gyms work on the owner earning money on commission per client.
2. While owners who have their gym stationed in a posh locality tend to earn a handsome amount per month that could go in lakhs.
Q. Is a gym a good business to start?
Ans:
1. Apart from a good amount of investment, an ample amount of patience is needed in the initial stages to gain profitability in the gym business.
2. A premium quality gym with modern types of equipment and the latest technology can easily turn your profits double in no time.
Q. How much does a gym cost to open?
Ans:
1. Any commercial gym setup cost in India can range up to anything from 5 lakh rupees to 50 lakhs easily. 💰
2. It all depends on the size, style, and locality of your fitness center.
Q. What is the salary of a gym trainer?
Ans: The salary of a gym trainer in India depends on the following factors-
Experienced- 40,000 to 1,00,000 rupees 💸
Fresher- 15,000 to 25,000 rupees 💴
Special Certification- Starting from 60,000 rupees 💷
Q. How much does gym equipment cost in India?
Ans:
1. The gym equipment cost in India depends on the quality and brand of products you choose.
2. Modern gears can cost easily in lakhs while old school or even second-hand pieces will be cheaper.
3. Gym equipment including cardio machines cost around 2 to 3 lakhs approx. in India.
Q. What do gym owners struggle with?
Ans: In the beginning stages, gym owners struggle with-
Getting new clients
Managing staff
Being self-motivated
Trainer conflict
Financial tracking/profits
Staff management
Q. How much space is needed for a gym?
Ans:
1. It all depends on the number of clients coming in every day, you have to take care of.
2. For example, if you have approx. 200 people dropping in every day around 2000 square feet is needed for everything.
3. Your spaces will include- cardio space, free workout space, machine area, and weights area.
Q. How many members does an average gym have?
Ans: On average, small to large gyms with franchises have over 1000 members.
Q. Is it better to lease or buy gym equipment?
Ans:
1. This decision is solely based on your financial budget.
2. If you purchase your equipment, you are bound to pay more in the beginning but will stay with you in the longer term as a safer investment.
3. While in terms of renting or leasing equipment, you might pay less initially but eventually, you would be spending more on rent and maintenance.
4. Hence, leasing won't incur many profits or prove to be a valuable asset.
Q. What's the difference between a gym and a fitness center?
Ans: Gyms are mostly indoors and have a specific set of equipment to work out with.
While fitness centers include a variety of activities that focus more than muscle development like-
💃🏻 Aerobics
🤽🏻‍♀️ Outdoor exercises
🤹🏻‍♀️ Circuit training
🧘🏻‍♀️ Yoga
🤸🏻 Kickboxing
👯‍♂️ Stepper classes
🏋🏻‍♀️ Resistance training
Q. What age group uses the gym the most?
Ans: The commonest age group that join the gyms start at the tender age of 16 and range up to 70.
Q. How much does it cost to furnish a gym?
Ans:
1. Generally, in a budget gym furnishing costs can go up to 30,000 rupees.
2. While posh gyms tend to spend lakhs of rupees on interiors for the contemporary upgrade.
Q. What does a gym include?
Ans: Any basic gym will include the following items-
Cardio machines- treadmill, cycles, CrossFit, ellipticals, etc.
Dumbbells/Barbel and weight areas
Free workout area
Machinery equipments
Small reception or office area
---