Organic food is an increasingly profitable business that is gaining speed in India and is one of the best businesses to start in the country. Bio-business chains that carry organic foodstuffs come everywhere with growing awareness of healthy living. In the next three years, the Indian organic food market expects to grow by more than 25 per cent. The small business of organic food and organic farming will have huge scope. Here are some hot new business ideas which will definitely help you.
This blog will elucidate the various intricacies of an organic food business plan and show you how to start an organic food business.

1. Permits and Licenses
Like any small business plan, an organic food store business plan has some legalities and formalities that must be met to make it legally acceptable before you implement any unique business idea. There are, in particular, nationally established organic standards to be met in the category of organic foodstuffs.
Get acquainted with these rules and get your organic shop certified by the Organic Trade Association as organic.
Apply to the health department for any in-state necessary licences and a food permit.
On the IRS website, you can apply for an employer identification number or EIN.
For your small organic food store business plan choose one of the key operating structures, such as a corporation, limited liability company, partnership, or sole proprietorship.
Create a bank account under your organic store's name.
Make your organic store transactions with the company ATM card. This will establish accountability loans for your small business.
Use a good financial accounting service to keep your business profitable and easy to manage. OkCredit is a financial accounting service that can help you manage and track your transactions and make your business easier to manage.
The following are the government's steps to promote the organic food industry in India:
The Government of India established PGS (Participatory Guarantee System) to subsidise small-scale farmers supported by the PKVY system (Pradhan Mantri Kaushal Vikash Yojna).
In 2018, in order to support both bio farmers and associated companies in this field, GOI introduced the "Jaivik Bharat Logo" and the "India Organic Integrity Base Portal."
For persons and organisations with annual revenues lower than Rs 12 lakhs, FSSAI now has relaxed certification standards. Efforts to promote and improve organic agriculture have also been made.
The government has begun standardisation of government fertilisers policy and the production and production of organic fertilisers to increase availability and convenience for organic fertilisers. Organic fertilisers can contribute to increased yield by organic farmers.
The Indian Government has announced that organisations with annual turnover below Rs 50 lakhs are able to sell their organic food products without PGS or NPOP approval (National Program for Organic Production). However, it is important to note that the "Jaïvik Bharat Logo" is not permitted in such organisations.
2. Store Locations
The site is an important part of its success. Though the organic food market is everywhere, it is important to know that not everybody buys organic food. While a great location can't ensure success, a poor position almost always ensures failure, especially for an organic food distribution business.
The location should have adequate security and public transport access. There is also a recommendation for adequate parking.
The best location combines visibility, affordability and leasing conditions with which you can live. A departmental store in newly developed areas, in particular, is more successful.
Rent of a place depends on the city and location of the department store, as small as Rs 10,000 to Rs 10 lakhs. Well, on the safe side, it shouldn't be over 4% of sales.
You'll need staff to operate a shop, from salespeople to cashiers to bookkeepers. Of course, if you want to, you can do much of the official "behind the scenes" business yourself. However, you will need some assistance in order to attend to your clients. OkStaff is a staff management app that offers various services for you to be able to manage your employees, their payments as well as other issues with ease.
A positive in-store customer experience, without a doubt, increases the likelihood of repeat business. This can be accomplished by ensuring that the employees are well-versed in natural and organic food products' details. Your marketing campaign should include staff preparation. Every day, your customers in your store discuss your goods. To make your efforts sound real to your customers, educate your workers on organics and naturals. There is a marked difference between these two products that need to be understood. If a single customer goes away with a bad experience at your store, the repercussions may be tenfold in severity. One bad review online or one bad remark through word of mouth can change the minds of potential customers, which will be disastrous for your business enterprise.
3. Investment Plans
Prepare yourself for the initial start-up costs. Organic products are generally more costly than non-organic products. Stocking your shelves for the first time is more expensive than you would think. Given the high cost of organic products, it is reasonable to assume that the price of goods would be higher than that of goods purchased in a non-organic shop. Regardless, if the demand for your products becomes too much for your customers to bear, they can purchase from someone else.
Price your organic foods by comparing them to the prices set by other organic food stores in the region.
If there are no other organic stores in the area, figure out how much a non-organic store makes on each item it sells. Now, use that as a rough guideline for pricing.
You will lose money if you set your prices too low.
Customers that are price sensitive can be turned off by excessive pricing.
It's possible that you'll have to adjust prices back and forth before you find the best price points for your organic food goods.
4. Advertising
Consider how you'd like to promote your organic foods and natural goods.
Traffic to your store can be increased by word of mouth, local advertisements, and promotion.
Concentrate your marketing strategies on attracting people who are interested in purchasing organic goods.
Publicise your business in print. Place a classified ad in the newspaper and distribute flyers throughout the city.
Consider distributing a small number of coupons to entice prospective buyers into the store.
You might also create a flyer or brochure to promote your natural and organic goods.
Inform your customers about the natural and organic products available in your shop, as well as the advantages of consuming organic vegetables and where they can get them.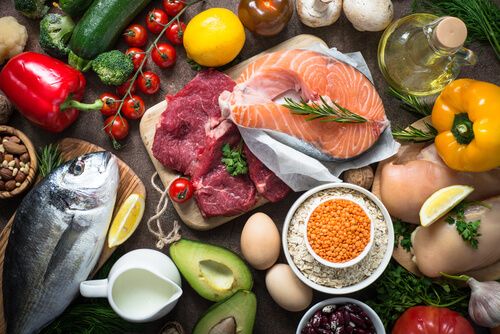 It is important to recognise that this generation's customers have enormous purchasing power. They are becoming more reliant on the Internet as a source of knowledge.
To begin, promote your organic and natural food products on your store's website and social media channels.
Second, add your business to Google Maps.
Utilise social media platforms such as Facebook to reach out to the rising online user community.
Keeping inventory is very important and OkCredit is a financial accounting service that helps you manage the various monetary ins and outs that come with any business while also keeping your hands free for other important tasks.
Conclusion
Like any other small business plan, an organic food business requires considerable mental and physical input. OkCredit and OkStaff can help you to manage the various ins and outs of your business while keeping the profits ever increasing.
Also read:
1) How to grow your brand? Best Tips & Tricks
2) Things You Need To Know Before Venturing into a Franchise Business
3) Here's how to start a Fast Food & Snacks Business in Easy Steps
4) Serving Meals on the Wheels - How to Open a Food Truck in 10 easy steps?
5) Best Honey Brands in India
Stay updated with new business ideas & business tips with OkCredit blogs in English, Hindi, Malayalam, Marathi & more!
Download OkCredit now & get rid of your bookkeeping hassles.
OkCredit is 100% Made in India.
FAQs
Q. Is the Organic Food Business profitable?
Ans. The most lucrative industry in the field is organic farming. Consider moving to organic farming if you own a farm. Inquire about the concept of organic food in your country with your local agriculture department or bureau. In reality, some countries offer organic farming incentives and subsidies.
Q. What is banned in Organic Food Production?
Ans. Synthetic fertilisers, herbicides, pesticides, and everything else that threatens habitats and symbiotic relationships are everything prohibited.
Q. What qualifies as Organic?
Ans. To be certified as organic, animals must be raised in living conditions that allow them to express their natural behaviours (such as being able to graze on pasture), fed 100 per cent organic feed and forage, and not given antibiotics or hormones.
---