It does not make sense to travel to the office and use the internet to do the work; the internet can be available anywhere, so why not start something at home and ditch the nine to five working for someone else's profit. If you also think likewise, now is the time to begin planning and starting a home-based business to give wings to your dreams.
A home-based business needs proper strategy and dedication. Some of them need good financial support, whereas some do not need much monetary backup. If it is the first step into the business world, you might feel overwhelmed with options and ways, to begin with.
A brief analysis of the ten-best business from home ideas in the following paragraphs for your reference. Please go through them and make an informed decision.
Ten ways to start a work from home business
1. Social media management
Social media management is the most in-demand work-from-home business idea in the current times. There are multiple reasons for such a demand, including global reach, target audience-specific approach, ease to operate from anywhere & anytime, working on social media channels, and many more.
The social media management business needs a basic setup, including a laptop or computer, a good internet connection, an understanding of social media campaigns, and basic accounting knowledge. You can also use bahi khata apps such as OkCredit for maintaining payables and receivables in a very organised manner.
To start the business, take a certificate course from a leading institute, do an internship, and try to get an initial job experience to understand the market and client's expectations.
2. Content creator and marketing
Content creation and marketing is another major way to start your dream business if there is a passion for writing within you. Writing is all about practice and passion; it can not be imposed or copied.
In a world that is going through the digital revolution, every business wants good content to convey their product message to their target customers globally. So, it has a great business opportunity currently and in the future.
Content includes blogs, articles, website content, social media posts, reviews, and anything that needs writing words. The content was, is, and will be the king of marketing.
Start your content business with writing as a freelancer, be flexible with rates, gain experience with multiple clients and launch your own business after feeling confident about it.
3. Online Tutoring
Teaching online has become a necessity for the last one and half years due to the pandemic. Several Edutech companies have come up with recorded classes, live classes, etc., and tutors can join them as subject experts.
In terms of work-from-home business, either you can start your own Edutech company or launch online classes. Teachers can also make video classes and post on the dedicated YouTube channel.
To start with, it is advisable to join one of the Edutech companies to gain good experience; it will also give some prospective students. The best resource for students in the locality, relatives, friends, and network, begin from there for the first batch of students and kickstart the online tutoring business at home.
4. Online supplies of daily essentials
This is one of the sunrise sectors in India and has great prospects as a work-from-home business. Currently, only two or three companies are major players in a huge country of ours with crores of internet users.
If you can manage logistics and a couple of human resources, delivering daily essentials, including fruits, vegetables, and groceries, online supplies are the best business to start at home. For staff management, you can use apps such as OkStaff and track attendance, payments, etc.
5. Virtual assistant
If you are good with handling multiple tasks altogether, a virtual assistant is a perfect idea for your home-based business.
Virtual assistants work for companies, agencies, and individuals and handle their billing, daily scheduling, administrative works, data entry, customer support, and many other tasks. They are supporting hands for busy business persons and businesses.
You can start it with a laptop or computer and a reliable internet network from the comfort of the home. Please make a list of the skills and search for clients online. Several companies prefer virtual assistance because it saves them time, money, and expert professional support.
6. Life coach
If you are good at explaining things to people, solving problems, and curating inspirational stories, life coaching is the best way to start work from home business.
Due to increased stress, health problems, uncertain future, etc., people are looking for someone who can inspire them for a promising tomorrow.
Start mentorship with a couple of free sessions and promote it on social media handles. It will take a small investment initially, but once people relate to you, it will prove to be a great business idea.

7. Pre-school and playgroup
India is the land of one of the youngest populations and has high fertility rates. Our demographic situation gives ample prospects for booming pre-school and playgroup business. If you like to spend time with kids and do good business out of it, start a playschool.
There are two ways to initiate the school business: take a franchise or start your brand. The playschool can start from home or rented property. It takes comparatively more investment than the ideas mentioned above.
8. Catering and tiffin services
Take a case study of famous 'dabbawalas of Mumbai,' and it is evident the huge prospects of catering and tiffin services. It was started from home and became a brand.
You can target areas around educational institutes, corporate parks, and hostels. A small investment will be required for kitchen set up, one or two delivery persons, and a cook. This is one of the best work from home business ideas because of its unending demand and importance in daily life.
9. Dance & yoga classes
Dance and yoga classes can be a great way to start a home-based business. Dance & yoga are perfect for a calm mind and a fit body.
Start the business by promoting your services with a promotional campaign, preferably on Instagram and Facebook. Shoot a dance & yoga video and post on a dedicated video channel either on YouTube or Vimeo.
Basic knowledge of billing will be required; you can also manage bahi khata hassle-free through apps such as OkCredit and manage the workforce through OkStaff. These apps use advanced technology to make the business easier to operate with automated reminders.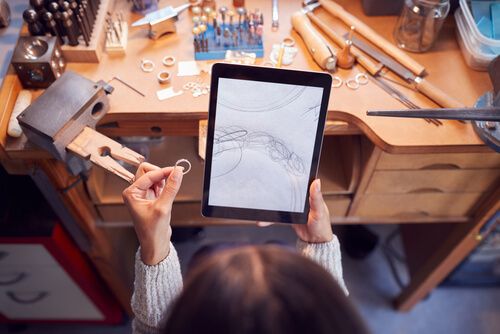 10. Jewellery design and making
Use your aesthetic capabilities and make jewellery design a full-time business from home. Several jewellery makers prefer designers who can provide them with unique and innovative designs. They hire people and pay a good amount of money.
To do business with companies, take a certification course in jewellery design and show them a couple of sample designs. This is high-paying quality work and can be developed as a thriving business from home.
Conclusion
One idea does not apply to everyone; similarly, it all depends on comfort, passion, and funds before choosing the preferred business from home idea. Choose a way to start a business from home after considering all the relevant aspects, including your interest, required investment, future prospects, current market trends, etc. Take calculated steps into the business world.
Also read:
1) What Are the Business Ideas I Can Look at If I Am an MBA Graduate?
2) 20 Business Ideas for Stay-At-Home Parents
3) 21 Successful Small Business Ideas for New Entrepreneurs in India
4) What are Some of the Best Online Businesses?
5) OkCredit: All you need to know about OkCredit & how it works.
Stay updated with new business ideas & business tips with OkCredit blogs in English, Hindi, Malayalam, Marathi & more!
Download OkCredit now & get rid of your bookkeeping hassles.
OkCredit is 100% Made in India.
FAQs
Q. What is the earning potential of a business from home?
Ans. Earning potential depends upon skills, experience, and category of business. If you have technical skills such as computer language, software development, digital marketing strategist, etc., earning potential is huge. In the case of content writing, catering services, etc., initial earning is comparatively less, but with experience, you will get great income potential.
Q. What are the prospects of business from home?
Ans. Prospects are very promising given the importance of digital platforms in our daily lives and corporate benefits.
Q. How to manage accounts if someone is not from a finance background?
Ans. You do not need a finance background to manage billing and payments. You can use bahi khata apps such as OkCredit for the record, reminder, and organized business operation.
---